Couristan's Axminster quality carpeting is woven of 80% virgin wool for long-lasting beauty and 20% anti-static nylon for additional strength in heavy traffic areas. The two-ply yarns are pressure dyed for vivid colors that make carpet designs come alive. As the ultimate choice of specifiers for prestige and complex contract and hospitality installations, high-performance, 80% wool/20% nylon custom Axminster carpets provide substantial advantages in terms of aesthetics, durability, appearance retention and value over any other flooring surface on the market.
As a result of its natural resilience, 80% wool/20% nylon Axminster carpets, provide such important added benefits as long-term appearance retention, ease of maintenance, and excellent recovery from compression. By absorbing harmful pollutants such as Nitrogen Dioxide and Sulphur Dioxide, has a contributing factor towards air purity. As an alternative to 80% wool/20% nylon Axminster carpet, Couristan also offers the option of other pile yarns, including 100% solution dyed nylon and 100% post dyed nylon.
By combining our established creative and technical expertise at the beginning of a project and employing our innovative Omni Weave Electronic Jacquard Technology to produce entire designs in "woven to plan" full-length rolls, we are able to engineer carpets with no limitations to complexity of design. This innovative technology results in little or no cross joining, reduced seaming costs and installation time, allows for perfect corner details, repeats, color placement and most importantly, provides reduced wastage and added longevity.
The design repeat can be virtually any width or length, creating an ever increasing variety of designs, which require only limited selvedge seaming. Initial design concepts and working drawings are assessed by our design and planning teams to create detailed technical drawings, illustrating how the design fits together and where each roll should be installed.
Omni Weave EJ Technology Demo
This demo shows just how Omni Weave EJ Technology works…
An architectural drawing is sent to the client for review and approval. We clearly illustrate the full panel layout. On the drawing, we have shown rolls 1-10. This illustrates how all the design elements are woven into each individual roll.
State-of-the-art high speed looms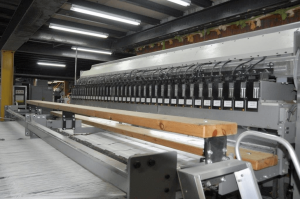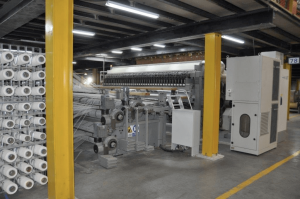 Housing the world's largest number of state-of-the-art Axminster looms under one roof, we are able to fulfill our clients' most complex and creative design projects, with the use of up to sixteen colors and  the ability to match a client's width requirements. Having such manufacturing flexibility and versatility each custom carpet produced from our Custom Woven Axminster Program is distinctive and truly an expression of our clients' own creativity.
STATE-OF-THE-ART TECHNOLOGY
Woven on looms that offer a unique flexibility in terms of colors and design, each tuft of pile yarn in an Axminster carpet is individually woven into place. This integral construction process allows even the most complex and intricate designs to be created with pin-point precision and high-definition. All carpets are comprised of a pile material and a backing. The superior difference of woven Axminster to a tufted construction is in the weaving process. On Axminster looms the pile and backing materials are woven together in a single operation. This eliminates the potential of delamination, and resultant bubbles, ripples, and potential premature product failure which may occur in heavy traffic areas with tufted carpet. The interweaving of the pile and backing results in each face yarn of the carpet being locked into place by the warp and weft threads. This unique construction process provides Axminster carpets with superior durability and appearance retention, purposely designed to withstand the wear and tear that is often associated with high traffic areas.
Advantages of Axminster Carpet
Carrying on the rich tradition of quality carpet weaving craftsmanship, Couristan's Contract•Hospitality Division offers the most versatile and flexible Custom Woven Axminster Program in the industry. Named after a type of weave that originated in 1755 in the old English Town of Axminster, woven Axminster carpets offer designers, architects and end-users with substantial advantages in aesthetics, performance and value compared to any other available flooring surface on the market.
Custom Woven Axminster Performance Guidelines
Property
Area
Medium Wear
Heavy Wear
Yarn
Hotel
Guestroom/
Suites
7-250-47
8-250-47
80% Wool/ 20% Nylon
Hotel
Corridors
8-250-47
9-250-47
80% Wool/ 20% Nylon
Hotel
Ballrooms/
Public Areas
9-250-47
10-250-47
80% Wool/ 20% Nylon
Casino
Main Floor
10-250-47
10-297-42
80% Wool/ 20% Nylon
Country Club
All Areas
9-250-47
10-250-47
80% Wool/ 20% Nylon
Restaurant
All Areas
9-250-47
10-250-47
80% Wool/ 20% Nylon
Also Available "Standard" Axminster – Carpet Tile
Yarn Blends

80% Wool/20% Nylon
100% Solution Dyed Nylon
100% Nylon Dyed

Tile Size

39.37" X 39.37" (1 meter x 1 meter)

Broadloom Widths

12', 13'2", 13'9.35" (Custom sizes are available upon request)
AXMINSTER ADDED BENEFITS
Unlimited color choices and design possibilities
Pattern clarity with high-definition
Superior durability and appearance retention
Ease of maintenance
Sound absorption
Breathe easy
Time-tested, proven performance
Static and mildew resistant
Flame resistant
Little or no cross joining
Reduced seaming costs
Reduced installation time
Greater longevity
Reduced wastage