Complete Management, Design and Support Services
Our Services
Let our experience guide you
Project Management
Working within a fully integrated and experienced project management team, your Couristan contract specialist who is supported by a network of skilled designers, technical experts and quality assurance teams will curate and guide you through all of your project requirements. From estimating to design to post-project support, our team of carpet experts is dedicated to providing our clients with the most complete project management and planning services in the contract and hospitality industries.
Turning Concepts Into Visual Realities
Creativity and Design
From the moment we receive your inquiry and requirements, we believe the commitment of resources available to any individual project is considerable, and reflects the importance we place on selecting the correct design and technical solution at the earliest stage.
From planning to design to installation to quality assurance and aftercare, and using our latest advanced CAD technology, our established global network of carpet experts are trained to provide our clients with the necessary support needed to turn even their most complex design concepts into visual realities. Any issues of color placement, raw material selections, tactile and visual aesthetics are considered and resolved.
Professional marketing and design tools
Sales and Marketing Support
As the most trusted name in the floor covering industry, we take great pride in providing our clients with the highest levels of design, value and customer service. Our team of experienced carpet experts includes dedicated contract specialists, skilled and creative designers, as well as experienced quality assurance and technical associates, all of which are truly artisans of their trade.
We offer an extensive archive of designs in which our team of skilled and passionate personnel are constantly updating and adding designs that aid in showcasing an impressive catalog of creative work. Full-color presentation visuals, and a large range of colors are available in an easy to handle pom box, plus an extensive selection for custom color matching. In addition, special colors can be dyed to meet a client's exact requirements.
We take great pride in providing our clients with the necessary marketing and design tools needed to ensure that their most creative concepts are transformed into beautiful and practical realities.
Manufacturing and Quality Assurance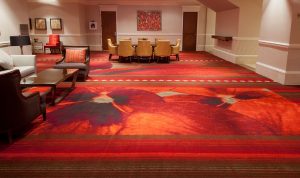 Designed to stand the test of time
While we will never compromise our quality standards, we pride ourselves at creating solutions that meet any specific conditions imposed by a client's application.
To ensure that the finished carpet will withstand the heavy wear demands of each installation, it is crucial that the raw materials used are of the highest quality. Our global network allows us to search the world for raw materials that meet our exacting standards, with pre-selected samples subjected to rigorous laboratory testing.
Our parallel investment in color science research and technology for wools, nylons and dye materials, has resulted in an extensive understanding of dye spectrography, which allows us to create a perfect color match for any sample we receive.
Throughout the weaving process, our quality assurance teams check the carpet for quality, design and color placement.
| Quality Assurance Property | Specification |
| --- | --- |
| Color Fastness – Light | AATCC 16E |
| Color Fastness – Water | AATCC 107 |
| Color Fastness – Rubbing | AATCC 165 |
| Color Fastness – Shampooing | AATCC 138 |
| Abrasion Resistance | ASTM D4158-08 |
| Appearance Retention | ASTM 5252 |
| Compression Recovery | ASTM D5251 |
| Tuft Retention | ISO 4919 |
| Electrostatic Propensity | AATCC 134 |
| Fire – Smoke Density | ASTM 622-01 |
| Fire – Critical Radiant Flux | ASTM E648 CLASS 1 |
| Green Label Plus | AXMINSTER, PRINT, HAND-TUFTED |
Installation, Aftercare and Maintenance
Installation
Using recommended installation procedures, tools and accessories has a huge impact on the success of an Axminster carpet installation. Stay informed and educated about the latest installation practices.
Aftercare
We provide a two-year limited warranty for our 80% wool/20% nylon Axminster carpet.
Maintenance
Commercial carpet represents a significant capital investment. To get the most out of this investment competent maintenance is essential. With correct maintenance you will extend the useful life of the carpet for many years.
World-Renowned Leaders
OUR CLIENTS' BRANDS